I think it's because your NVIDIA driver doesn't allow you use youcam to leverage its hardware encode capability.
You'll need to turn it on on NVIDIA control panel.
Quote I just bought a blu ray writer and am using the trial version of Power2Go 13 Essential (Version 13.0.0718.0b, SR Number P2G190705-02). I was testing the software to see if I could use it to archive my data on Blu Ray, and I noticed a glitch in the burning process:

In the burning options, I check the box so that "Enable defect management" is confirmed. When I view the log after burning, it says "Burn option: w/o stream write(defect management)" -- which seems to indicate that defect management was not enabled. If I do another burn and clear the box for "Enable defect management", the log says "Burn option: w/ stream write(defect management)".

So it's not clear to me whether the front end of the program is correct, or the log, or whether it's really using this feature at all. Is anyone else experiencing this?



hi,
which file system did you use? UDF 2.5?
that's an interesting problem.
do you have screen shot about this problem?

and, what is your PC's model?
mine looks fine.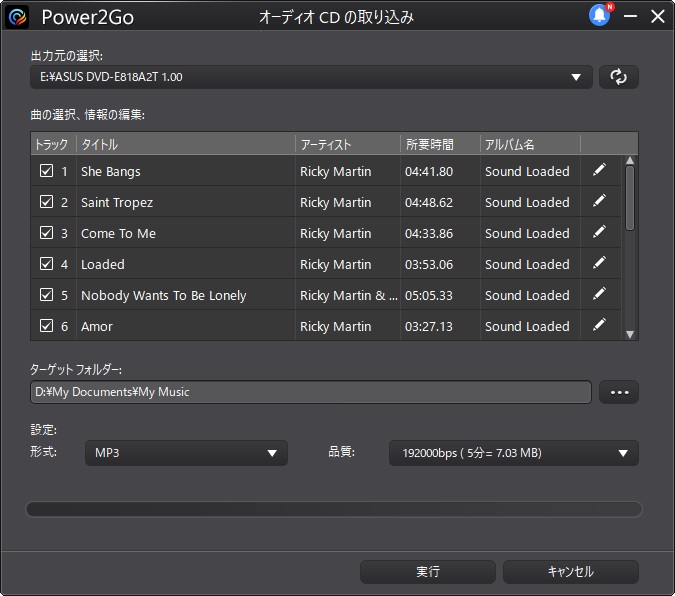 usualy when power2go show "unknown" for audio cd ripping data, it means this audio cd is not a commercial audio cd and it has no more info to show from its music database.
I don't think your Logitech HD webcam C310 has zooming feature. maybe it's done some other software. (Logitech driver?)
hence, you need to disable it first.
Did you enable "auto-run program" when you start to burn the disc?
Try to disable it and burn again.
they got a director zone site which has bunch of DVD menus.
I downloaded lots of menus, for ex.

https://directorzone.cyberlink.com/detail/162878716
hi,
>>there seem to be a "splat" or portion of the video (still)
what does it look like? do you have a snapshot to explain what it is?
I wonder it's a design of this "Coloring Pencil" menu.
Did you install LightScribe SystemSoftware? it's kind of LightScribe drive's driver.
If not, try install from below first,

https://lightscribesoftware.org/lightscribesystemsoftware/
No, this is not supported in power2go.
You may use power director to do this ripping manner.
Quote Hi there,
I cannot seem for the life of me to find any Text Overlay or scroll on YouCam 8. Is it really not here or am I just missing something? Its kind of a standard feature on most of these kinds of apps - if its not here now, are there any plans on the roadmap to add that?

Thanks!



Hi,
what's the Text Overlay do you refer to?
what's the usage case you're ging to use?
I tried to download a webpage and use my power2go to burn the downloaded html file + folder.
It look perfect on my burnt disc, no extra underline is added and it can open normally from disc. I use UDF 2.0 file system to burn.

since MoBay chose to close this topic, maybe there is some mis-understandings.
what are the original file names of index__, STEPHAN__, and Welcome__?
Quote Why is Power2Go adding underlines to my file names when I burn them to a DVD? This is a new disc with nothing on it. Of course, the underlines make my html not work anymore because it is set up for the original file names. This just ruins the disc. Can anyone help me figure this out?
Bob



what's the file name of your html file? maybe the file name itself doesn't compliant to the file name to be burnt onto disc. so power2go helped you rename it.
for ex. / ? * characters.
your idea is interesting. it sounds you want to play the video but keep playing background music without interupt?
what is your power2go version? maybe cyberlink got an patch for this issue.
>>The video is downloaded from my Windows 10 and when I preview it on the computer there are no wavy lines.
Where was the video downloaded from?
Maybe I can have a check on the source video.
Quote Just a comment first - regular DVD players will play mp3 files normally. They will not play mp4 discs.

To burn an mp4 file, treat the disc as a data disc. Some players would see the data disc and play it.

You can also try using a thumb drive if the file is large. Thumb drives are inexpensive, can contain a lot of data, and are more rugged.



a cheap DVD-R disc is more suitable for give-away.
btw, mp3 is a music format while mp4 is a movie format. they're not the same.
Since you paid for this program, then maybe find cyberlink customer support for help is better.


Couple hints to distinguish it's program issue or source clip issue or disc/burner issue, maybe you can try,



Try burn to an iso image or DVD folder, does it still crash?


Try another video clip, does it still crash?


If above 2 are nagative, then try another DVD blank disc, does it still crash?