Quote

THANK YOU!!! This helps me a ton. I was wasting a lot of time. Now I need to find an old computer with the correct connections to allow me to use the digital signals from the camcorder. Thanks again!!!

If you have a tower (rather than a laptop) it is quite easy and inexpensive to install a firewire capture card/device. I did it and I have no computer assembly knowledge whatsoever. I got a Vantec and was capturing HDV right away. No driver issues either.
It doesn't help the OP much, he has PD16. Honestly when I first saw the function I didn't think much of it, but it has been a good improvment in my editing flow.
The latest Powerdirector, 17, has just that new function called "Precut", it even meshes well with trim and multi-trim and returns a simply cut video file or files to your library. To be clear, they are not actually files, just precut representations. Very cool.
Quote I found out why EzGrapper only records some few minutes !

I records a Video8 tape and it takes around 1 hour depending of size of tape, but the computer goes into sleep/snooze mode after some time !

When I came back to the computer and sees it's in sleep/snooze mode, I touch the mouse and sees it's stil recording, BUT ...

In fact the FILE ONLY CONTAINS recording from I woke up the computer until I stopped recording !!!!!!!!!!!!!

And now the best part of it all - I have settings on sleep/snooze that is "NEVER"

I have looked in the BIOS to see if there was anything on the harddrive - nothing there !

I can see the screen is off - WHERE IS THAT SETTING ?

EDIT: OK, maybe the PAUSE screen can f#$% up the recording too !

It's not polite to use a potty-mouth on this forum.
Please edit your post a tiny bit.
So, back to the copyright message. You are using a video camera and I have never actually got that message unless using a VCR, so I'm still suggesting dirty heads or tapes, and as mentioned before in the thread rewinding (under supervision) a few times may even the tension and flitter away some dust/dirt. I'm not sure how you might stop your computer from going sleepy on you other than in power management.
What is your equipment chain?
Are the tapes moldy/dirty?
Are the heads dirty?
The copyright warning is from a dirty signal, Macrovision is artificial noise.
Your issue could even be interference from other very close electrical interference as well as subpar old ratty cabling.
Quote From Barry the Crab "As for a USB dongle, make it a VC-500 or don't bother."

There is another USB Dongle that is as good or better than the Diamond VC500.

It is a Hauppauge USB-Live 2.

I have both, and both have good chipsets. Avoid all others. But the real issue is inability to capture at all.
Try another tape, another vcr (what model are you using?).
Do not buy a time base corrector without clearing it at DigitalFAQ, many are broken or unsuitable for vhs signals.
Honestly, you can go down a rabbit hole with this!
If you intend on doing any editing other than cuts you may possibly be interested in capturing lossless AVI using VirtualDub or Stoix, Stoix is easier to master.
Lossless captures allow you to eliminate MPEG2 and MP4 compression artifacts, especially in noisy low-light shots.
You can edit HuffYUV lossless in Powerdirector. This removes at least one compression render from your workflow.
Admittedly it's a little bit of a purist approach, but it's how I do all my tape captures to keep as much of the "quality" of VHS as possible.
What is your VCR?
If your tapes are overly dirty the interferance can be seen by the VCR as copyright protection. It's not Cyberlink.
It's possible the VCR is a dirty stinker also. There are instructions on the internet for cleaning heads. Pure alcohol, NO COTTON Qtips, no paper strips, spin the drums by hand, read up. Maybe try a different machine.
The only way to guarantee you can capture your tapes is to incorporate a WORKING time base corrector which will scrub the noise from the tape. You will have to pay through the nose, I paid $400 for mine 2 years ago and they are upwards of $6-800 now because nobody makes them anymore.
Go to DigitalFAQ.com and do more research.
As for a USB dongle, make it a VC-500 or don't bother.
An actual sample file would be better. The single image looks fairly crappy.
The sample should be 10 seconds more or less, and unaltered if possible.
If you are working with anything but lossless media you have a rough road to travel.
Recapture should stay in your sights.
How does turning off hyperthreading affect the rest of the program? Producing?
And how does it affect other programs?
Get some dvdrw and save your money. Just get a 5 pack and take care of them.
I have burned discs both as 4:3 and as 4:3 in a 16:9 frame, permanently creating pillar boxes. I prefer 4:3 au natural.
If the TV does not recognise it as expected you have to use the TV clicker/remote to alter the viewing aspect. I don't think it's a PD issue, it's a TV issue. I will happily allow myself to be corrected but I believe I am right.
Quote As an extra thought - would PD17 work with an external disc drive ie., does it still have the facility to export to a disc?
Thanks.

Yes, you can add an external disc drive.
You can also export to all the formats that today's TVs play via thumbdrive. For sharing, other than Youtube or some other service, you might consider a free DropBox account and share the actual files for downloading by people that do NOT necessarily have a DropBox account. Of course DB is not the only cloud service, just an example.
Good grief, man, what ancient version are you using? Here is a list of output options. Like any mainline editor these days you have a boatload of choices.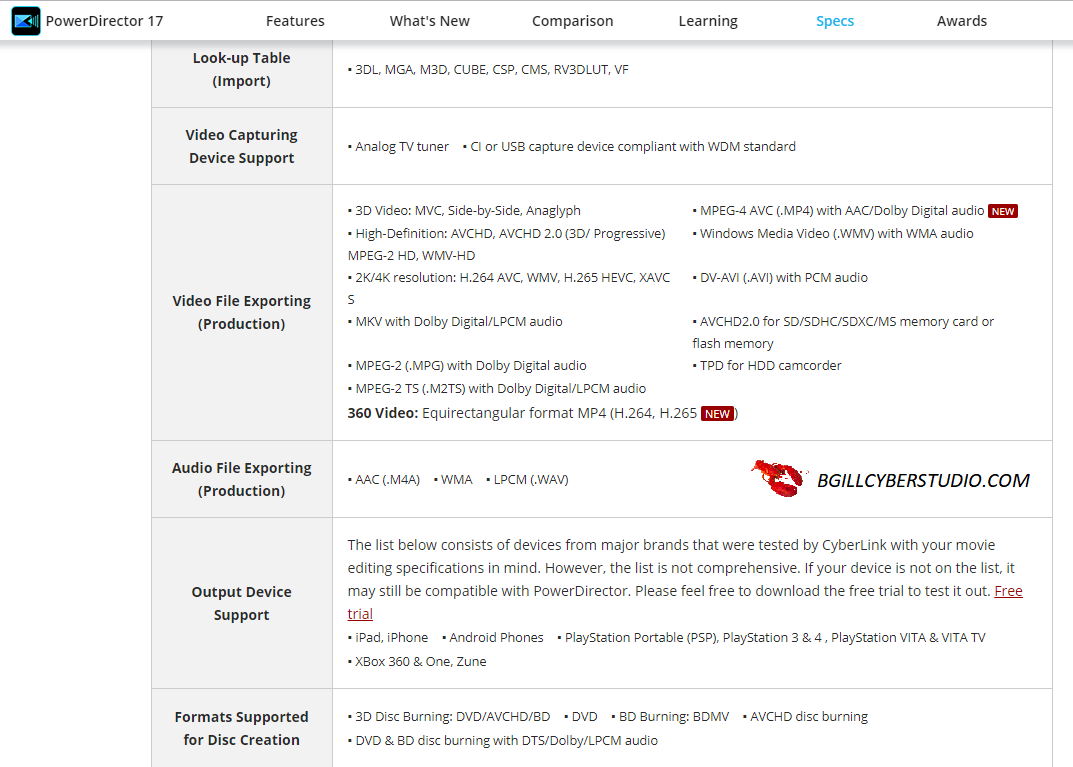 So...what ancient version? I use an old PD12 in 32 bit to access lossless avi codecs, so you might want to consider keeping the old as well as progressing to the new.
Did anybody ever follow up on the limited proc amp controls?
Quote
My hardware setup is nothing to write home about, but seems to run things adequately:
Magnavox VCR/DVD player (new from the box It is not VHS-S or have an S-video output.
...A lot of them of them are suffering from loss of color and sharpness apparently due to age.
Mike


Some problems may be from the VCR, sorry to say, especially apparently laying idle for so long. Gravity, dried rubber, leaky caps.
We are also spoiled by HD flat screens at 40-50-70 inches. VHS is doo-doo by today's standards.

Your tapes should be FF to the end and rewound (under watchful supervision) to the end a few times.
Keep other close by electronics off.
If the audio is crackly try another audio channel in the VCR menu.
Customize capture profile to bump up the bitrate to minimize compression artifacts.
Some tapes may display wiggles and flagging especially at the top.
A "cheap" substitute for a true TBC time base corrector to fix bends tearing and flagging is a Panasonic DMR-ES10 and ES15 DVD recorder. Use it as a pass-through, you MUST have the remote to turn off noise reduction (too strong) and adjust black and white level inputs. You won't regret it. It also has a very good habit of reducing VHS "dot crawl" from using RCA cables rather than s-video capture. A true TBC is $500-$1000 now. A Panasonic ES series is $100+-, much cheaper, and not too hard to find on Ebay (beware) or Mercari ( one now for $118, and it's the cream of the crop the ES-10.), or Facebook Marketplace, but you NEED the remote.

I have run amok of the original topic so I'll retreat to my den and speak no more...unless asked.
Truth be told, PD has a spotty record regarding file sizes, at least in the realm of estimating the size of the proposed file.
For accuracy regarding file information get yourself a copy of Mediainfo. It's free.
Hi Mike, welcome to the forum.
I see you are capturing VHS.
You have chosen a VC-500. That was a good choice.
First, I will attempt to answer your question.
You have captured tape at a certain format, resolution and bitrate. The file is what it is, and the MB in explorer are likely accurate.
Now you are setting yourself up to create a DVD and the size of the POTENTIAL file to be created is different.
Different formats and files, sources and destinations, all are different, much has to do with the actual playing time, and action and color of the file, different compression schemes, etc.

In current PD, capturing tape of all types, if going to DVD, always capture using a custom profile of MPEG2 at 10-12 MB/s and NTSC 720x480. If going directly to streaming, capture an H264 (yuck) also at 720x480. If intending to go to both distributions then capture both types, DVD is interlaced and streaming is progressive.

Premium results will depend on several factors...

If you have zero editing other than cuts, and the tapes are in good shape, and you have a decent VCR/tape player/camera, then you should be fine.

But...

If you need to do color corrections, white balance, lighting, stabilize, crop head switching noise at the bottom of the screen, mask edges, anything at all, you'll absolutely ruin your captures because they will have to be re-rendered and the multi-generational compression artifacts will get worse and worse. And what are you going to do about flagging and tearing?


Good-great quality captures start with a high-level s-vhs player with a TBC, using s-video cables, using a good USB dongle like the VC-500, and an additional line TBC prior to even getting to the computer.
Nearby electronics can fiddle the transfer, too. And don't EVER throw the tapes away.

Best, actually, to capture lossless HuffYUV if any restoration is needed, but PD can only edit it, not capture or produce to it.

Welcome to the rabbit hole. Any questions? I want to know exactly what equipment you have.
I understand your frustration, and maybe we can help.
You however have given members here almost ZERO information to assist you.
First off, you are posting in a forum that includes answers for software you do not own.
Go to the forum for older PD versions and give us your dxdiag attached.
Steven is correct, Hank, you gave us absolutely nothing for information. How do you expect to get help?



Computer specs via dxdiag, attached.


Type of video or image files.


What level and build of PD are you using?


Have you updated patched PD?


What kind of editing are you doing? Lots of FX?




Hank, you got to give us a little something.