Hi 2:1 360 format are absent in PowerDirector 365 for Mac

I run CyberLink PowerDirector 20 Ultimate on my PC windows 10 workstation

and was happy to find the PowerDirector 365 for Mac
and bought the (Annual Plan - 12 months) for my Mac Book pro.




It runns nicely on macOS Big Sur but lack the 360 funktions

Qistion: will the 360 edit and 2:1 format come in future update in the PowerDirector 365 for Mac version

360 cameras are wery popular these dayes
Quote Sven,

I see that YouTube eventually recognized my 360.

After experimenting with uploading 360 videos and "free capture" videos- I see that the quality of the uploaded 360 videos is degraded enough that I'm not happy with them. But the free capture videos I upload are not being degraded much.

I'm thinking that there really isn't that many situations that a 360 is going to be useful compared to a carefully developed free capture.

I saw your video where you saw up an old oak log. It was 360 but if you had done it as a free capture it would have been just as informative to your audience, perhaps more so as you could "force" their attention where you want- so they don't bother looking around your property.

So, even with 5.7 K- that's barely enough to get great quality. It may look decent on your computer but once it's degraded by uploading, it's barely acceptable, to me at least. I notice on the YouTube help site- they recommend uploading much higher resolution 360 videos- I presume with very expensive, multiple lens cameras- such as those Insta360 makes.

Regardless, I really love this Insta360 One X camera. It's taking some time to get used to working with editing them.

Insta360 recently uploaded their post Beta version of Studio- which is quite nice for a basic 360 editor. Now I need to see what I can do with PD 17.

By the way, I enjoyed watching your video of sawing that log. Do you saw much wood? I'm interested because I've been a "professional forester" since 1973. Any photograph and video of anything to do with forests and forest products interests me. That in fact is my objective- to take videos of forestry work. And maybe also in some local sawmills, here in Massachusetts, USA.
Joe

We aggre with you but the owercapture from a 5.7 video only becomes 1080 HD you have all the overcapture funktions in PowerDirecktor 17 and much more in HD moode and in 360 moode you can also clipp and change the starting positions where you want the visitors attention by the way did you go to the nadi on the ground to look 👀 for the tripod no ? it is all the magic of PowerDirecktor 😉
Quote


Sven and Optodata,

Thanks to both of you for your advice- but I suspect my elderly somewhat damaged brain would have trouble with creating a profile even with your excellent directions. I just hope Cyberlink will do it for us in their next upgrade of V17.

By the way, I tried uploading a 360 deg file to YouTube only to find out it doesn't automatically recognize 360 files- the way Vimeo does. I'm surprised about this. Their help file gave instructions how to modify the file before uploading- but heck no- I'll stick with vimeo.

Now, here's a question. Would uploading a 5.7K or 5.2K 360 deg file to Vimeo look much better than a 4K file?

Joe

the Quality will be better i think that on YouTube You just have to Whait a little longer (depending on the Video file size) then it will play in 360 When the servers on Youtube are finished preparing your video


The video streaming platform Vimeo has added support for 360-degree videos in up to 8K resolution with customisable settings.

The platform update is aimed at videographers and offers users the
option to sell videos or channel subscriptions for their 360 videos.

Videos can be uploaded directly from Adobe Premiere Pro or Sony Vegas, and an updated mobile app lets users save videos to watch at a later time without an internet connection.

New customisable options of users' 360 videos include the option to
change the default view or the direction in which viewers start when the
video begins.

Other options allow you to return to the originally intended angle of view during viewing.

What's more, Vimeo has launched a new 360 Video School to help users
master the technique of filming in a 360-degree video format.
Check this link

Quote Sven,

I found your blog and saw your explanation of how to set up a new 5.7K profile. I'm very impressed that you could do it but I don't think I'm going to do it because I'd probably mess it up.

It would be nice if Cyberlink incorporated something like that in its next upgrade.

Joe

we jost mad a copy off the Profile.ini

the onely way you can mess it up are if you change the name id that the applicatin use
Youtube Recodnice the video as 360 after a while when rendred in CyberLink PowerDirector17 (64-bit)
but not on Vimeo there you have to injeckt metadata if it shall run automaticaly


We got the Answer to the problem from Kris M (Vimeo Support)
Dec 7, 3:35 PM EST
Hi Svend,
Thanks for getting in touch, and sorry for the trouble with your video.
You will need to toggle the 360 setting on for your video. The option to mark your video as 360 can be found under the Distribution > Discovery page of your video settings.

well hidden under Distribution/ videofile links


Vimeo Upload settings Vimeo sayes 360 Deteckted but the video do not play in the 360 Viewer
we have contackted VIMEO and sent a link to to this post Thank You


Yes Tony
It is 360 custom settings MPEG-4 3840 x 1920/50p (20 Mbps)128kbps
may be it is because the video are 50 Frames p/sec
on YouTube it is recodniced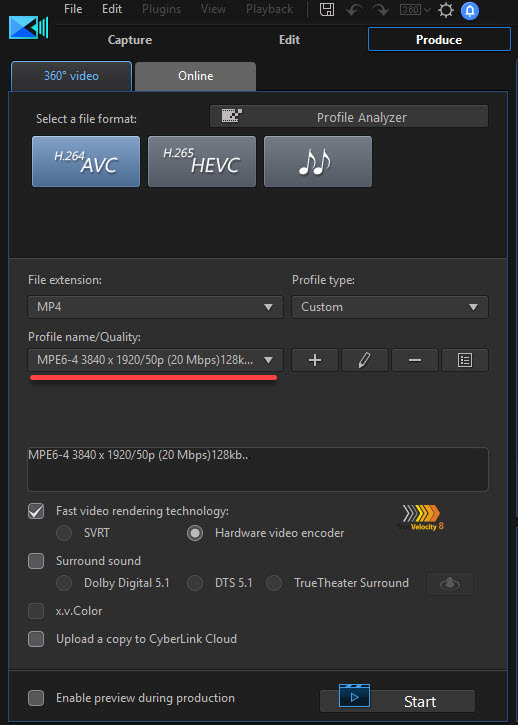 Quote Hi Svendus -

That's odd. I just did a quick test in PDR17 using the Samsung Gear360 sample clip.

Produced to 3840x1920 in a 360 project - uploaded to Vimeo which immediately recognised it as 360, stating "360 detected" after upload was complete.

It plays correctly as a 360 file.



Cheers - Tony



Thanks Tony
we tryed two difrent 4K 50p h264 avc files and they both became flat 4K videos
Shot with an insta360ONEX Camera
Here are the media info from the last one

General
Complete name : D:\CyberLink\PowerDirector\17.0\2018 Hamra Ford T-A.mp4
Format : MPEG-4
Format profile : Sony PSP
Codec ID : MSNV (MSNV/isom/mp42)
File size : 3.32 GiB
Duration : 24 min 14 s
Overall bit rate : 19.6 Mb/s
Encoded date : UTC 2018-12-06 09:12:52
Tagged date : UTC 2018-12-06 09:12:52
Video
ID : 1
Format : AVC
Format/Info : Advanced Video Codec
Format profile : High@L5.2
Format settings : CABAC / 2 Ref Frames
Format settings, CABAC : Yes
Format settings, ReFrames : 2 frames
Format settings, GOP : M=3, N=13
Codec ID : avc1
Codec ID/Info : Advanced Video Coding
Duration : 24 min 14 s
Bit rate : 19.5 Mb/s
Width : 3 840 pixels
Height : 1 920 pixels
Display aspect ratio : 2.000
Frame rate mode : Constant
Frame rate : 50.000 FPS
Color space : YUV
Chroma subsampling : 4:2:0
Bit depth : 8 bits
Scan type : Progressive
Bits/(Pixel*Frame) : 0.053
Stream size : 3.30 GiB (99%)
Language : English
Encoded date : UTC 2018-12-06 09:12:52
Tagged date : UTC 2018-12-06 09:12:52
Codec configuration box : avcC
Audio
ID : 2
Format : AAC LC
Format/Info : Advanced Audio Codec Low Complexity
Codec ID : mp4a-40-2
Duration : 24 min 14 s
Source duration : 24 min 14 s
Bit rate mode : Constant
Bit rate : 128 kb/s
Channel(s) : 2 channels
Channel layout : L R
Sampling rate : 48.0 kHz
Frame rate : 46.875 FPS (1024 SPF)
Compression mode : Lossy
Stream size : 22.2 MiB (1%)
Source stream size : 22.2 MiB (1%)
Language : English
Encoded date : UTC 2018-12-06 09:12:52
Tagged date : UTC 2018-12-06 09:12:52
mdhd_Duration : 1454398
We never had this problemin PowerDirector 16

You have to use a Spatial Media Metadata Injector

and injeckt meta data before it is playing in the 360 Viewer
Hi Guys first of all thank You for a wonderfull piece of Software

We have enjoied PowerDirector 15 - 16 and now upgraded to 17 the in last wersion or machine chrashes with blue screen

we usaly edit 360 video shot with Gamin Virb 360 , insta 360 ONE and Mi Sphere Camera


PowerDirector Version: 17.0.2029.0
Version type: Ultimate
SR numben VDE180725-02

the machine are allright with the latest drivers


Processor: Intel(R) Core(TM) i7-5960X CPU @ 4.20GHz 3.00 G Hz
Installerat RAM-minne: 64,0 GB
Systemtyp: 64-bitars operativsystem, x64-baserad processor

we tryed to go to 3,89 processor clock speed
but the system chrashes any way after 5 to 10 minutes

rendering a 4,05 GB (4 355 505 376 byte) 18 min 4k 36 file

attach Svendus-DxDiag.txt

Regards Svendus
Quote PD does have Proxy Editing. It has to be activated, will then generate SD files used for editing. These are automatically replaced by the original video for the final product. I edit in 4K and for longer than 10 min it is a must to do proxy editing.

It works great and the availability of PE was the main reason I bought PD11, now using PD14.

Eugene



EDIT: Moderators Feel free to move or delete this when we found the answer

Thank You Eugen157 Proxy files = Shadow files

but where is it activated ?


Hi i am new here on this forum

we purchased PowerDirector 15 last Christmas and are impressed by the softwares stability and layout
Love the 360 Funktion

one thing i think is missing (we did not find this funktion)

are a Proxy video creation like the one in Movie Studio Platinum 13.0 (64-bit)
to day are doing automaticaly
it should be fine on a slow PC Proxy Video Editing is a process where you create lower quality Standard
Definition copies of your original HD videos and edit/create your
project in Sony Vegas Pro or Sony Vegas Movie Studio HD Platinum
using these lower quality versions. Then once you have finished all
your editing you then replace the SD Versions back with the original HD
Video files and render your project with them. Proxy Video Editing
should totally eliminate any lag in the Preview Window.

Note we are not on a Slow machine



Processor:Intel(R) CoreCTM) ¡7-5960X CPU @ 4.30GHz 3.00 GHz Installd RAM: 64,0 GB
Asus x99A motherbord, NVIDIA GeForce GTX 970 graphics card

But Editing HD 50 and 60 pps or several 4K streams at the same time the machine has to work quite hard

Regards Svendus
Oups Sorry i forgot Smart Phones and Tablets cannot display 4K Video

then you only see the preview panorama from the parking place

so now we uploaded an alternative file in HD 1920x960 10 Mpbs half size

the Phone or Tablet loads the 360 video as well but in the lower resolution





or just Right click the Video and chose Play Video in HD 1920x960 in the menuthe HD panorama loads in a new window/tap in the HD Slide-Show-panorama-low 10 Mpbs versionclose the 4k tap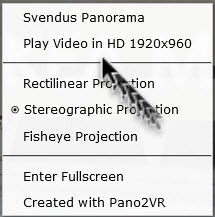 YouTube do compress the 50mbps Video

Take a look att the full size THETA S slideshow streamed in Pano2VR http://svendus.se/ikea-museum/

it is running here on our connection

original Video 3840x1920 50 Mpbs compressed to 15 Mpbs

it gives the THETA S resolution a chance

High resolution 360 Panorama video has troubles with the size and buffering

You can actuarily play a multi-resolution panorama with 10 times the resolution than the THETA S has and still see it on a low internet connection

4K and higher are therefore even today only for the few but may be the multi-resolution Video of to morrow will allow us to enjoy 8 and 16K 360 Video

see the same Video on YouTube https://youtu.be/mX21jjqxd6sthe

Just STOP the show if you want to look around

Regards Svendus