Hi,
Last night Adrian (vn800rider) got me to check out a new found function in PD8. I'd like others who have raw .mp4 video files to test please.

For my experiment (and what Adrian did) I used an original .mp4 file created by my Sanyo HD 2000 camera (Adrian's 1010).
Open PD
Place an .mp4 video into Media Library (I use MediaShow 5 to navigate through my video and then click drag and drop media into PD).
Select Produce > Mpeg-4 > Mobile Phone > Mobile Hi-Vision Cam Woo
Select Output folder
Select Start
A *.3G2 file is created
Highlight the finished file extension .3G2 and replace with .mp4 extension.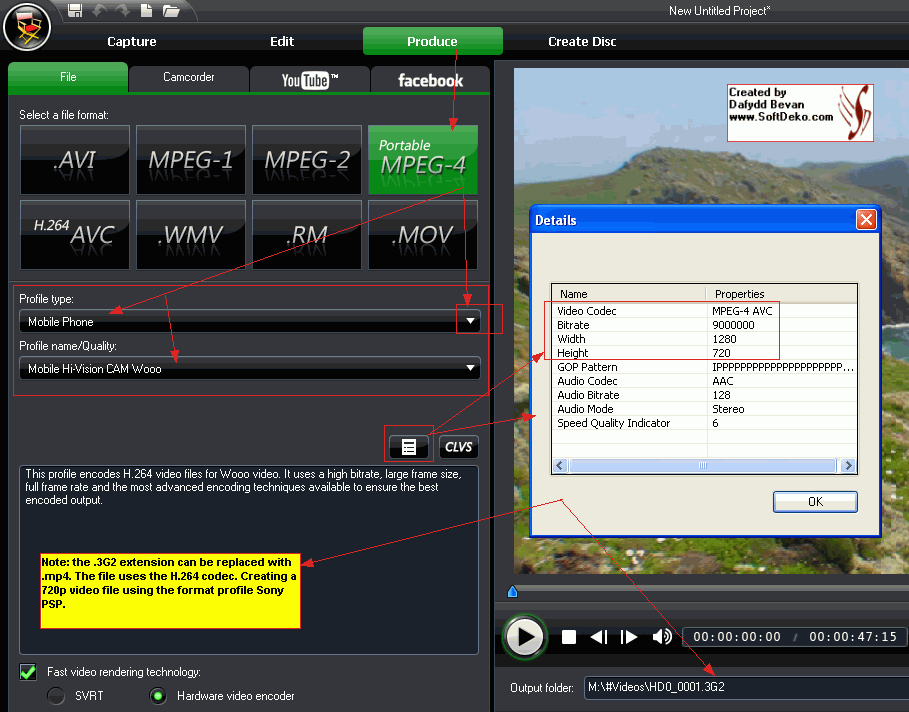 Please can other .mp4 file editors check this 720p solution for quality and application, reporting back here?
Dafydd
[Moderator]
Note MediaInfo will not display the properties of a 3G2 file.
Filename

sdukpd8-407.gif

Description

How to create a 720p .mp4 in PD8

Filesize

69 Kbytes

Downloaded:

17337 time(s)
Filename

sdukpd8-404.jpg

Description

Test - create .3G2 and change extension to .mp4

Filesize

4 Kbytes

Downloaded:

16672 time(s)
This message was edited 7 times. Last update was at Jan 21. 2010 04:57