Hi tomasc,

Can you see the below topic in Forum Index » PowerDirector (previous versions) ?

<<PD13 FREEZES WHILE READING OR EDITING A PROJECT>> - created in 25/03/2016 14:22:32

We have restored this topic and thank you for the escalation.



CyberLink Forum Team
Hi TENNIS,

你可以試試看最新的軟體更新:http://tw.cyberlink.com/support/powerdirector-ultra/patches_zh_TW.html

同時建議你有技術性的問題時也可至技術客服中心詢問:https://membership.cyberlink.com/support/service/technical-support.do


CyberLink Forum Administrator
Dear CyberLink Community Forum Members,

CyberLink is proud to announce world's first subscription-based universal player with integrated cloud media sync, PowerDVD Live!!!

PowerDVD Live is the world's first subscription-based media player for Blu-ray 3D, DVD and all media. PowerDVD Live offers annual or quarterly subscription plans, with guaranteed upgrades to the latest PowerDVD Ultra versions. With the integration of CyberLink Cloud, cloud storage service, you can upload and sync multimedia content across PC, notebook and mobile devices. Best of all, PowerDVD Live subscribers can always enjoy the latest playback technology of world's No.1 player - PowerDVD Ultra! Read more.



CyberLink Community Forum Team
Dear CyberLink Customer,

We have recently discovered that some customers who purchased Director Suite 2 and PowerDirector 12 Ultimate Suite might receive an extraction error message during installation.


Message #1 (installing Director Suite 2)
"Packed data CRC failed in PDIR\Data1.7z"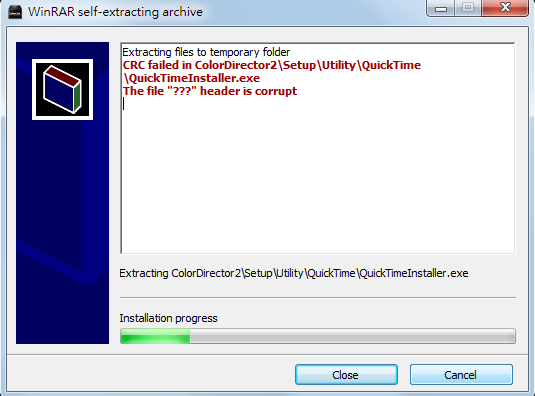 Message #2 (installing PowerDirector 12 Ultimate Suite)
"CRC failed in ColorDirector2\Setup\Utility\QuickTime\QuickTimeInstaller.exe
The file "???" header is corrupt"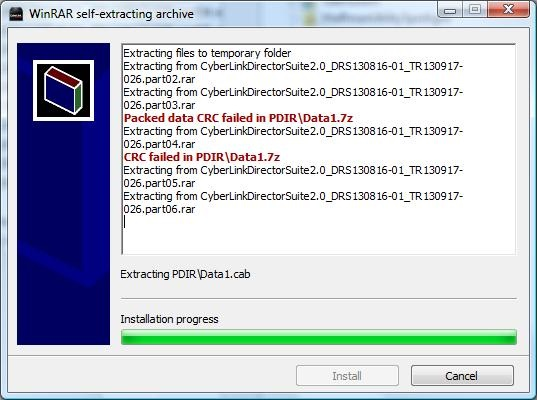 Purchase Date
Sep 25 '13 to Sep 29 '13


If you purchased from the CyberLink Online Store during this period, please do not hesitate to contact customer support. Customer Support Team will provide you with new download links. Meanwhile, our online vendor will re-send the confirmation letter within 7 days. We apologize for the inconvenience and thank you for your understanding.



Yours Sincerely,
CyberLink Forum Administrator
Dear CyberLink Community Forum Members,

CyberLink is excited to introduce the complete solution for creative needs, CyberLink Director Suite
Fastest Video and Photo Editing Software - Complete Solution With Color Grading & Audio Production


PowerDirector 12 Ultimate Suite
Fastest and Intuitive Video Editing - Complete Solution With Color Grading & Audio Production

PhotoDirector 5 Suite
Complete Photo Editing Software, plus Color Grading for Your Videos

AudioDirector 4
Powerful and intuitive audio editing, mixing, restoration and mastering for your videos

ColorDirector 2
Correct and balance video lighting and create vibrant film-style looks




CyberLink Community Forum Team
Hi HeavyTiger,

I happened to see your post so I've asked CL CS team to recheck your case. It appears to us that you've purchased your new product under different email address, not the same one as your current email registered with CL membership.

The online purchase system has sent you your confirmation letter that describes your purchase details. Suggest you to log into your other email account to check for your new purchase info.

If you need your other email account (the one you used to purchase your new software), please PM me.


Cheers,
CyberLink Forum Administrator
Dear CyberLink Forum Members,

Thank you for using CyberLink PowerDVD 12. We are happy to let you know that a free update is available to update PowerDVD 12. Please visit PowerDVD Update Center to install the update. This will update your PowerDVD 12 to the latest build.

Build Number
v2118a

Updates:
[General]

Supports Windows 8.


Supports hardware acceleration for playback of 4K video files on 3rd generation Intel Core i5 CPUs and above.


Adds PowerDVD to the player list in Windows Explorer for supported media types.


[Media Library]

Optimizes computing power usage when scanning Media Library files.


[Blu-ray]

Supports the latest 20th Century Fox Blu-ray movies.


Improves playback of the "John Carter" Blu-ray Disc for 2nd and 3rd generation Intel Core Processors (Sandy Bridge, Ivy Bridge).


[3D]

Retains original aspect ratio for 3D file playback.



Yours Sincerely,
CyberLink Forum Administrator
Dear CyberLink Forum Members,

Thank you for using CyberLink PowerDirector 10. We are happy to let you know that a free update is available to update PowerDirector 10. Please visit PowerDirector Update Center to install the update. This will update your PowerDirector 10 to the latest build.

Build Number
v2023

Updates

Supports Windows 8.


Improves compatibility with YouTube's upload interface. (YouTube OAuth 2.0)


Updates Terms of Use for Freesound.


Supports default browser when linking to DirectorZone from PowerDirector.



Yours Sincerely,
CyberLink Forum Administrator
Dear CyberLink Community Forum Members,

CyberLink is excited to introduce the complete solution for creative needs - Creative Director Family


PowerDirector Series
Complete Video Editing and Production Tools for Pro-Creation

PhotoDirector Series
Comprehensive Photography Workflow to Enrich Your Photo and Video Creations

AudioDirector
Powerful Sound Design. Amazing Audio for Your Films

ColorDirector
Pro-Style Color Adjustment. Cinema Quality for Your Movies




CyberLink Community Forum Team
Dear CyberLink Forum Members,

Thank you for using CyberLink PowerDVD 12. We are happy to let you know that a free update is available to update PowerDVD 12. Please visit PowerDVD Update Center to install the update. This will update your PowerDVD 12 to the latest build.

Build Number: v1905c

Updates:
[Blu-ray Disc Playback]

Performance improvements for the Instant Seek function.


Now correctly auto-adjusts refresh rate of display to match FPS of Blu-ray Disc.


Improves playback compatibility and performance for Blu-ray Disc movies released by Fox Studios, including: Futurama, Predator 2, Drumline, Stargate, Planet of the Apes, and Horton Hears a Who!


[Home Media (DLNA)]

Hides CyberLink PowerDVD entry from other home media (DLNA) clients if DLNA sharing is turned off.


Supports Intel Quick Sync Video technology when transcoding.


Supports WTV files playback via DLNA.


Faultlessly uses "Play to" function in express menu. (Right-click mouse to call out express menu.)


Supports AMD Trinity chipset when transcoding via Device Sync function.


[Stability and Compatibility Enhancement]

Improves stability and CPU usage when importing media files into Media Library.


Enhance playback compatibility for WTV files.


Improves compatibility with DivX codec.


Improves several feature behaviors in 3D mode.


Fixes issues reported by the CyberLink Issue Reporter.


[Others]

Supports drag-and-drop of .m3u and .pls files in PowerDVD.


Correctly redraws UI when playing video in full screen.


Completely disables MoovieLive if MoovieLive features are disabled in settings.


Correctly displays info when the Info button on remote controller is pressed.



Yours Sincerely,
CyberLink Forum Administrator
Dear CyberLink Forum Members,

Thank you for choosing CyberLink products. We are now Windows 8 certified. Visit here to find out more.

CyberLink Compatible Products for Windows 8:


PowerDVD 12


PowerDirector 10


Media Suite 10


Power2Go 8


PhotoDirector 3


YouCam 5


PowerProducer 5.5


MediaShow 6


InstantBurn 5


LabelPrint 2.5


The above list of CyberLink products come with an update guarantee for Windows 8 compatibility after the official launch of Windows 8 OS.


Yours Sincerely,
CyberLink Forum Administrator
Dear CyberLink Forum Members,

Thank you for using CyberLink YouCam 5. We are happy to let you know that a free update is available to update YouCam 5. Please visit YouCam Update Center to install the update. This will update your YouCam 5 to the latest build.

Build Number: v1909

Updates:

Now supports hardware encoding for the 2nd generation AMD APU 4000/5000 series.


Now supports hardware encoding for the 3rd generation Intel Core i5/i7 processors.


Improvements:

Improves Face Login stability.


Now correctly displays the duration of videos captured for more than 14 hours.


Now supports HD Video Surveillance recording.


Improves compatibility with Facebook's upload interface for WMV video.


Improves compatibility with YouTube's upload interface.



Yours Sincerely,
CyberLink Forum Administrator
Dear CyberLink Forum Members,

Thank you for using CyberLink MediaShow 6. We are happy to let you know that a free update is available to update MediaShow 6. Please visit MediaShow Update Center to install the update. This will update your MediaShow 6 to the latest build.

Build Number: v4312

Updates:

Now supports the editing of large photos – resolution higher than 4096 x 4096.


Adds new slideshow creation features.


Now supports the 3rd generation Intel Core i5/i7 processor.


Now supports the 2nd generation AMD APU 4000/5000 series.


Improves compatibility with YouTube's upload interface.



Yours Sincerely,
CyberLink Forum Administrator
Dear CyberLink Forum Members,

Thank you for using CyberLink PowerDVD 11. We are happy to let you know that a free update is available to update PowerDVD 11. Please visit PowerDVD Update Center to install the update. This will update your PowerDVD 11 to the latest build.

Build Number: v2608

Updates [Ultra only]:

Now prevents CyberLink PowerDVD from unexpectedly locking Blu-ray Disc region codes.


Now correctly plays back 3D Blu-ray Discs with AMD graphic cards on some 3D TV sets.


Now correctly displays two line subtitles when playing back MKV files.


Now correctly displays external subtitle files when playing back video files under Windows XP.


Program optimization and maintenance.


Updates [Deluxe & Standard only]:

Now correctly displays two line subtitles when playing back MKV files.


Now correctly displays external subtitle files when playing back video files under Windows XP.


Program optimization and maintenance.



Yours Sincerely,
CyberLink Forum Administrator
CyberLink 커뮤니티 포럼 회원님들께

CyberLink 에서는 PC의 미디어 엔터테인먼트 소프트웨어의 No.1 선택인 PowerDVD 12 를 새롭게 출시 했습니다. PowerDVD 12 는 미디어 엔터테인먼트를 최상의 폼질인 HD & 3D로 제공해 드릴 것입니다.

PowerDVD 12 는 동영상, 영화, 사진, 음악등 모든 미디어 파일 형식을 재생시킬 수 있으며, 고유의 비디오 및 오디오 기술을 바탕으로 최상의 HD & 3D 품질을 제공함으로써 홈 네트워크에서나 Youtube, Facebook, Flickr 에서도 이용이 가능합니다. PowerDVD 12 로 집 안이나 밖에서나 언제 어디서든 고품격의 미디어를 즐겨보세요.

PowerDVD 12 의 더 많은 기능을 확인하시기 바랍니다.


CyberLink 커뮤니티 포럼 팀 드림
Dear CyberLink Community Forum Members,

CyberLink is excited to introduce the newly released #1 choice for media entertainment software on PCs - PowerDVD 12. PowerDVD 12 is designed to deliver state-of-the-art media entertainment and the best player experience available, resulting in maximum enjoyment of your HD & 3D media.

PowerDVD 12 plays all types of media content - movies, videos, photos and music, and brings the best in video and audio technologies to upgrade all your viewing experience to HD and 3D, including streamed content via home network, or, Youtube, Facebook and Flickr pages. PowerDVD 12 is the ultimate entertainment software you need anywhere at home and on-the-road.

Please visit PowerDVD 12 product page for more information.


Best Regards,
CyberLink Community Forum Team
사이버링크 포럼 회원님,

CyberLink Power2Go 8을 사용해 주셔서 감사합니다. Power2Go 8의 업데이트를 위한 무료 패치 프로그램을 알려드립니다. 패치를 설치하려면 Power2Go 업데이트 센터로 로 들어가시면 됩니다. 패치는 항상 Power2Go의 최신 버전을 제공합니다.

빌드 넘버:
v1306

해결된 문제:

현재 인텔 X79 칩셋을 지원합니다.


프로젝트 파일을 열 때 프로그램의 안정성을 향상 시키세요.



감사합니다,
사이버링크 포럼 관리자
사이버링크 포럼 회원님,

CyberLink Media Suite 9을 사용해 주셔서 감사합니다. Media Suite 9의 업데이트를 위한 무료 패치 프로그램을 알려드립니다. 패치를 설치하려면 Media Suite 업데이트 센터로 로 들어가시면 됩니다. 패치는 항상 Media Suite 9의 최신 버전을 제공합니다.

빌드 넘버:
v3706

해결된 문제:

PowerStarter 에서 Power2Go 8 지원을 시작합니다.



감사합니다,
사이버링크 포럼 관리자
사이버링크 포럼 회원님,

CyberLink Media Suite 9을 사용해 주셔서 감사합니다. Media Suite 9의 업데이트를 위한 무료 패치 프로그램을 알려드립니다. 패치를 설치하려면 Media Suite 업데이트 센터로 로 들어가시면 됩니다. 패치는 항상 Media Suite 9의 최신 버전을 제공합니다.

빌드 넘버:
v3706

해결된 문제:

PowerStarter 에서 Power2Go 8 지원을 시작합니다.



감사합니다,
사이버링크 포럼 관리자
사이버링크 포럼 회원님,

CyberLink PowerDVD 10을 사용해 주셔서 감사합니다. PowerDVD 10의 업데이트를 위한 무료 패치 프로그램을 알려드립니다. 패치를 설치하려면 PowerDVD 업데이트 센터 로 들어가시면 됩니다. 패치는 항상 PowerDVD 10의 최신 버전을 제공합니다.

빌드 넘버 [Ultra & Deluxe]:
v3715

해결된 문제 [Ultra & Deluxe]:

PowerDVD 10의 볼륨과 시스템 볼륨의 동시 설정


3D 디스플레이 기기와 연결시 AMD Radeon HD 6000 시리즈와의 호환성 향상


DVD 폴더 재생 호환성 향상


PowerDVD 10 의 안정성 향상으로 인한 프로그램 강제 종료 현상 발생 감소



감사합니다,
사이버링크 포럼 관리자