I installed MediaShow and was successful in producing a small slideshow which I did just to get familiar with the product and it's features.
Always the same thing: CyberLink MediaShow could not produce the slideshow movie. CyberLink MediaShow could not convert the video file.
I am using JPG images and MediaShow's built-in slideshow features.
Later, when I went to make a slideshow, I ALWAYS get the follwoing error.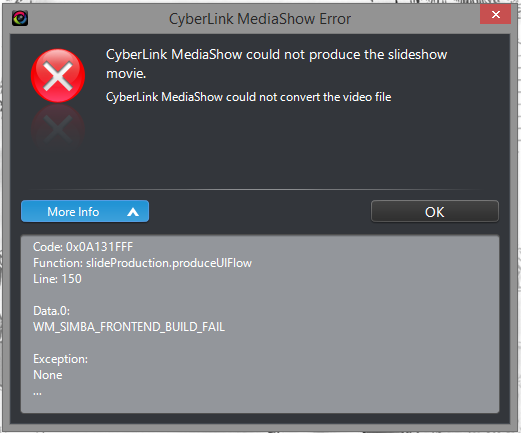 It does not matter the size of the slideshow (5 slides or 100), I get it everytime EXCEPT THE FIRST TIME. I have uninstalled and reinstalled, etc. and the same thing over and over. Any suggestions? I tried researching and could not find anyone commenting on the same subject (or at least in my online searches - this forum and the internet in general).
This message was edited 1 time. Last update was at Apr 11. 2015 10:02
KnarfOH